A dispute between the owner of a beauty salon in Winston-Salem and a Clemmons hairstylist who buys her items there led to calls for a boycott of that local chain and other beauty salons that cater to black women but are not owned by blacks.
On the morning of July 16, Terrica walked into Hughes Beauty Supply at 1232 Waughtown Street. Hughes makes wigs that Ego sells and has been taking photos for the establishment, but that morning he wanted to buy hair glue.
Hughes selected her item and presented her card to the employee, a young black woman. The clerk attempted to complete the $31 transaction. Both she and Ego's management agree on that.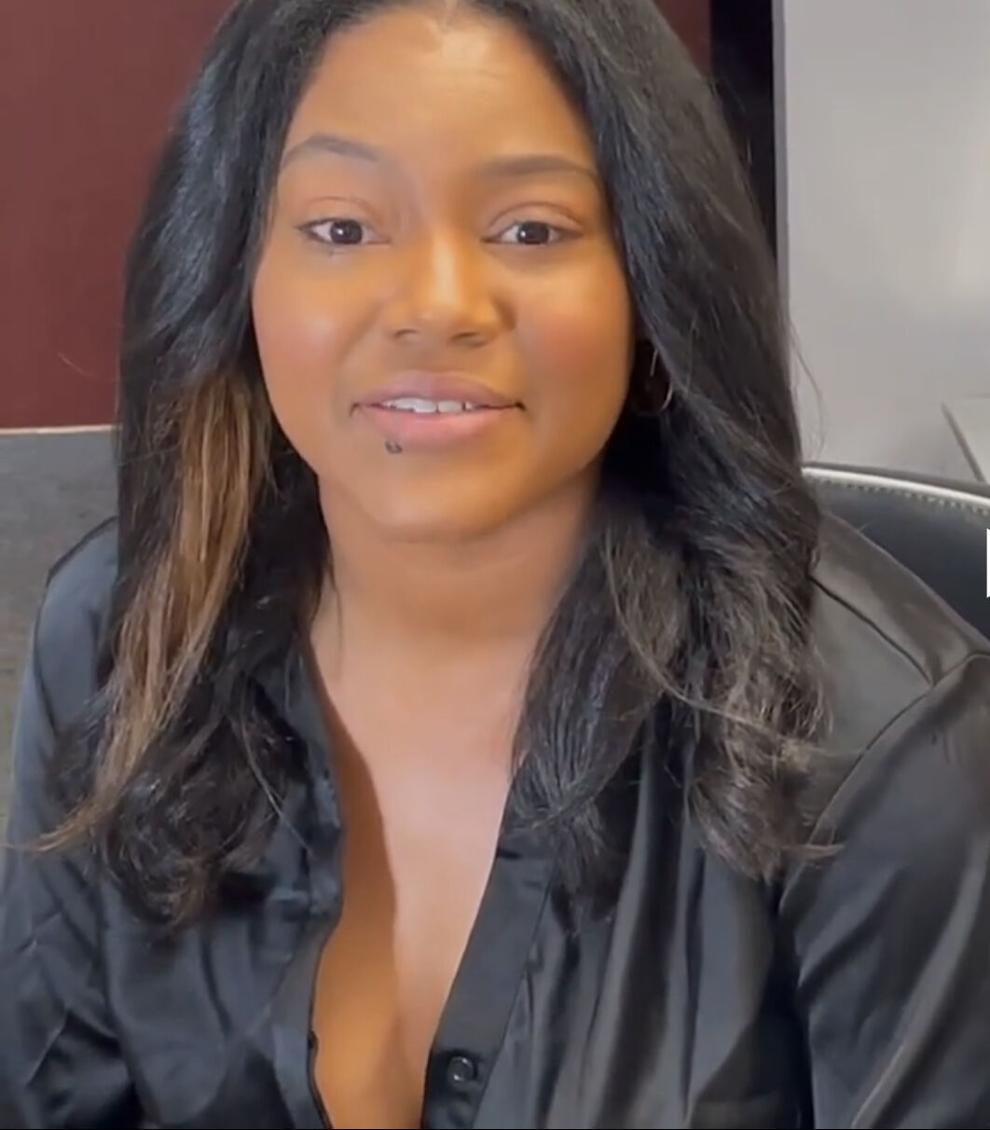 Both also agree that owner Hasan Kanan laid hands on her when Hughes tried to leave the store with the product. While Kanan responded to requests from YES! He told the Winston-Salem Journal weekly that he just picked up the goods. Hughes admits she hit him after Kanan wrapped his arms around her and snatched the goods from her. She apologizes for this retaliation, but insists that she paid for the item he forcibly took from her.
The July 28 Winston-Salem Journal article, "Winston-Salem Storekeeper Faces Backlash Over Scuffle with Customer," cites the following claim from "a 297-word statement on the incident" previously posted on the Facebook page was published by Ego: "Our system showed it (the purchase) as declined."
As of Sunday evening, the only statement about the incident on Ego's side does not include this claim.
Hughes claims the transaction was not declined and has a bank statement showing it went through. In a YouTube video posted by community group Hate Out of Winston on Saturday, Hughes tells her version of what happened that morning.
She describes running out of hair glue after a morning session with a client and driving from Clemmons to Ego to buy more. She said the POS system froze and the clerk told her it was a recurring problem.
According to Hughes, her mobile banking app showed the transaction as received, with $31 deducted from her balance.
When Kanan came to restart the POS, she described showing him that the app listed the fee and explaining that she would have to return to Clemmons for her next appointment. According to Hughes, Kanan told her, "I don't have the money, you buy again" and "If you buy twice, come back in two days and get a refund."
In the YouTube video, Hughes states that Kanan told her to call her bank. She said she put her bank's customer service representative on the speakerphone to verify the transaction, but Kanan found this unsatisfactory, repeating, "You buy it twice." She acknowledged she picked up the packaged goods "and confidently went to." left the door because I just paid and didn't steal anything".
What happened next is shown in two videos from different angles that Hate Out of Winston shared on YouTube and Facebook. The shorter clip appears to have been taken with a cellphone pointed at a monitor screen.
Neither clip has audible dialogue, but the longer one begins with Hughes and Kanan in what appears to be animated conversation. Hughes said YES! Weekly that before this moment she had discussed the topic with Kanan "for what felt like 30 minutes".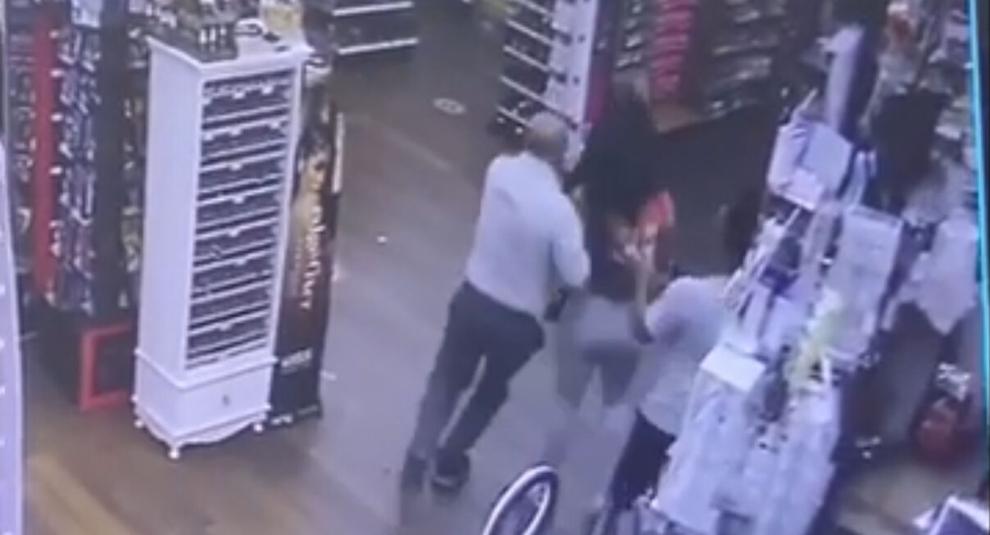 As Hughes grabs a wrapped item from the counter and is about to leave, Kanan rushes over to grab her from behind. He shifts his grip to one of her arms, forcing her back to the counter. The black clerk stands behind Hughes and grabs the back of her shirt, then steps back.
Hughes struggles in Kanan's grip and he appears to grab her right wrist to force her to release the bagged items. He then waves his right finger in her face before walking away.
After Kanan steps back behind the counter. Hughes leans over, punches him, unsuccessfully grabs the wrapped merchandise, and falls out of the store. As she walks out, she pushes past the clerk and hits her as well.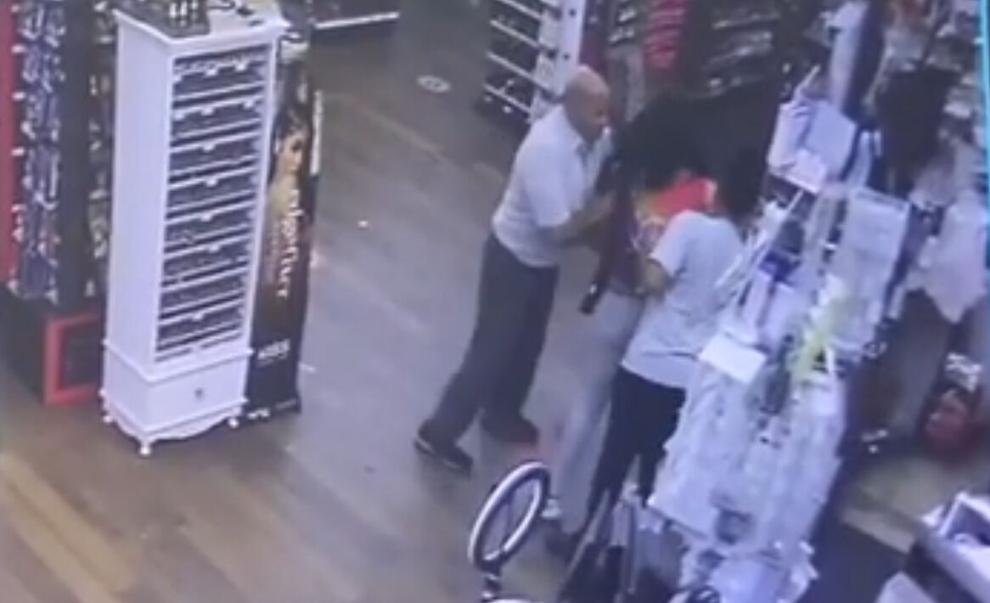 On August 2, Hate Out of Winston posted a public Facebook video with the caption, "Terica's mother's audio excerpt of the conversation that took place between her and Mr. Hasan Kanan."
On the audio, a woman says, "If you called the police, they should have given you a report number." The man says, "I don't because I don't report it."
They seem to be talking about Terrica Hughes, whom the man recognizes as a regular. "She's nice, but now you want to file a complaint? Then I will."
"I'm just trying to make things right," the woman says.
"I say you want to do it, I'll do it too," replies the man.
They appear to be watching a video together. "Oh, you laid your hands on her?" asks the woman.
"I took my things!" says the man.
"And then you laid hands on her, and the girl laid hands on her too. Look, you've got them both in your hands. Look what you are doing!"
No charges have been filed, according to The Winston-Salem Journal.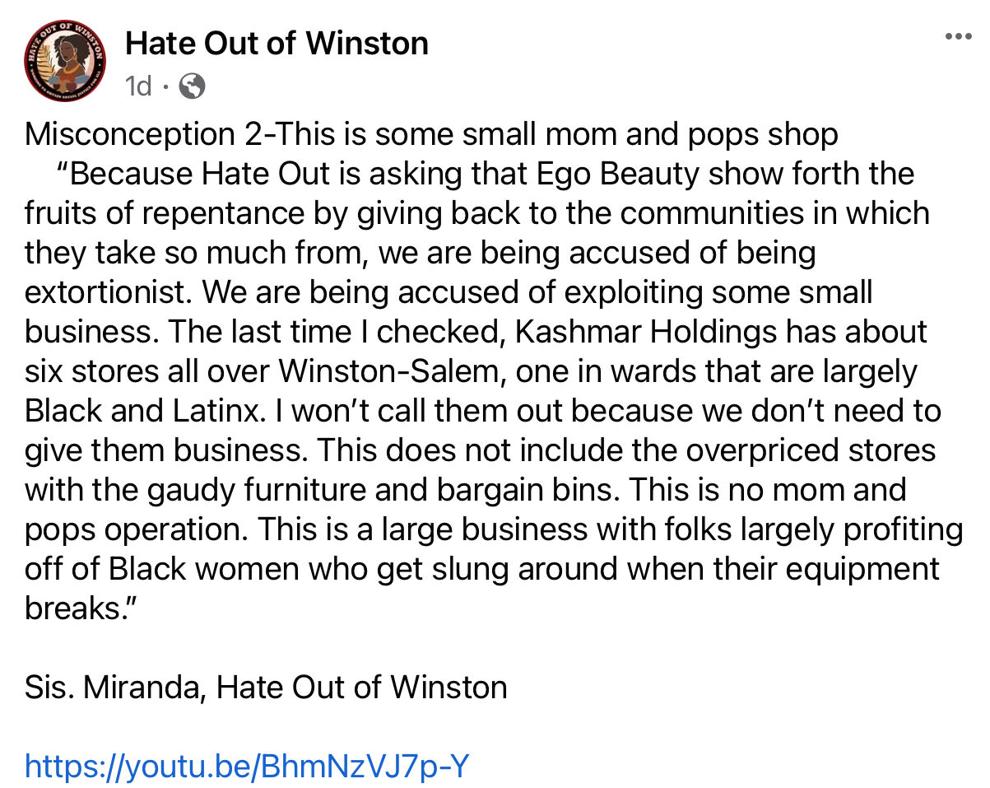 While Ego Beauty Supply has not responded to phone or email inquiries, someone connected to the company responded via Facebook Messenger on Friday, stating, "This is one of our posts on Facebook [to] help explain how the situation unfolded on July 16."
Attached to this Facebook message was a screenshot of a post stating that the incident "should never have escalated like this" and "we will ensure that we handle future situations in a more professional manner". It also said, "We spoke to Terrica and we apologize for what happened."
Though the wording is different from the now-deleted post cited by the Winston-Salem Journal, it claims the POS system showed Hughes' card as declined.
"Even while she was trying to sort out the payment and the fact that the payment was never approved at the time, she was still trying to leave the store with the unpaid merchandise. That's when we tried to get our goods back. The customer then attacked the owner, an employee, causing further damage to our business."
The statement concludes with:
"We should have worked to resolve the issue peacefully and not overreacted in the way we did. Our reaction caused the escalation. What happened is not who we are or what we represent. We want to apologize to Terrica, the Winston Salem community and everyone who has supported us over the past 17 years."
While the statement in this screenshot is no longer on Ego's Facebook page, similar statements have been posted with the explanation "We don't have a PR spokesperson, this is the owner's son".
When asked about the video posted by Hate Out of Winston, which allegedly contained audio recordings of a conversation between Kanan and Hughes' mother as they watched the security video, the person who sent the statement replied, "No comment."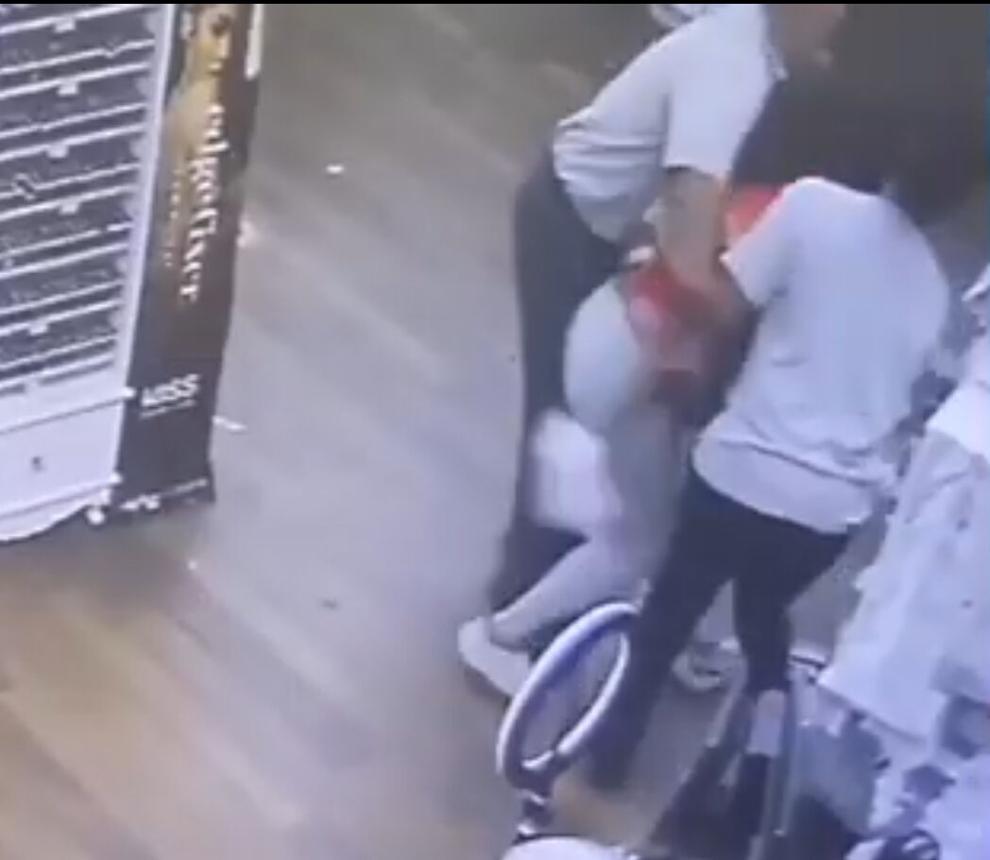 In the phone interview, Hughes said Kanan did not apologize.
"I appreciate this coming from the owner's son, but I haven't received one from his father yet. I received a refund on July 28th showing that I paid for the item which I never received. I appreciate their efforts to apologize but not the way they shifted the momentum."
She said that she apologized and still felt bad for hitting Kanan and his staff, but "that's how much it made me feel and how hurt and humiliated I was." She claimed she had Kanan's staff beaten because she heard Kanan instructing the woman to prevent her from leaving. "I didn't want them to touch me again."
Hughes said she has been a self-employed salon owner with a growing business for the past decade. She also described trips to India, Vietnam, China and Myanmar to "ethically source hair" from countries "that use the money to build bridges and roads and shore up their infrastructure."
"The bigger problem," Hughes claimed, is that Ego Beauty Supply "has no rapport with their customers or doesn't value them, and I find that really wild because black women are their bread and butter, the people who weigh their pockets heavily." and allow them to open multiple locations and I really feel like they don't value us. So many women have reached out to me and said they have had similar issues with the same man."
Hate Out of Winston's Darlene Steele also stressed via email that "this is bigger than Terrica."
"There are many stories of black women who have had similar encounters with Ego Beauty. This is about the protection of black women, the black economy and respect for the black community. There is a long history of anti-Black animosity and resentment towards Black women consumers, and as a Black women-led group we are passionate about this. We recognize that black women do not have access to black wholesalers and we want to change that in our community. We have to be persistent about keeping our dollars in the black community."
Steele wrote: "Hate Out is moving into phase 2 of our protest. We collect data and information to connect with Wholesale Black owners in the industry. In addition, we encourage everyone to stop shopping at Ego and stores that do not respect black women."
On July 30, Hate Out of Winston held a protest in front of Ego's Waughtown Street location, calling on the community to boycott that store and Ego's locations on Shatalon Drive and New Walkertown Road. The protesters carried signs that read "We are Terrica" ​​and "Shop Black Owned".
Addressing the crowd, Hughes said the problem was bigger than her experience with this particular business, claiming that black women in beauty shops and nail shops that are not owned by black people but are "part of a billion dollar industry, fueled by black customers."
The owner and management of Ego Beauty Supply declined to comment on the threatened boycott.